Christian Spurrier on the tragedy of Gramsci's prison years as revealed in letters to his wife and sons (Guardian)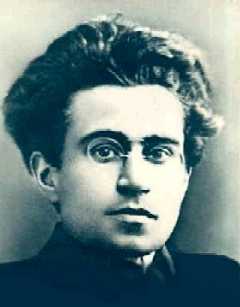 When I see the actions and hear the words of men who have been in prison for five, eight or 10 years, when I observe the spiritual deformations they have undergone, it gives me a cold shiver and I begin to doubt my own power to watch over myself." So wrote Antonio Gramsci to his Russian wife Julka, two years into the prison sentence that ended with his death in 1937. Gramsci's subsequent fame rests on his prison notebooks – political essays on fascism and capitalism written while in Mussolini's jails. But his letters, of which there were more than 500, tell the story behind that work. And they are a remarkable account of imprisonment.
Arrested on November 8, 1926, aged 35, Gramsci was a Sardinian-born journalist and agitator who had fought his way to the leadership of the Italian communist party. He was famous for his campaigning articles and had worked closely with Mussolini in the days when Il Duce was still a socialist and editor of the worker's paper L'Avanti. Perhaps because of this, from the moment Mussolini seized power in 1922, Gramsci knew his position was precarious. Aged 35, he was arrested on November 8, 1926 despite parliamentary immunity and sent to the prison island of Ustica, where he expected to spend five years.
His letters from Ustica are combative, optimistic and full of fascination at the strange new world into which he had been flung. He recounts seeing a pig arrested and treated as a felon and being instructed in the rivalries of the Sicilian and Calabrian mafias. He told his mother: "I felt I was living in a fantastic novel." To Julka, he wrote: "We two are still young enough to look forward to seeing our children grow up together." (more…)