Temporal is a fine trancreative (a term invented by Temporal himself) poet. The ability to write and translate in multiple languages is a unique gift, to say the least.
I had read love orphan when it was posted last week. After reading it again today, I thought it would be great to post it here.
It has a strange meter, a sombre mood and pace – above all, it cascades and changes its direction several times before reaching the climactic trinity of forlornness. In this condition of "threeness", love suffers with the lovers….
love orphan/ish'q yateem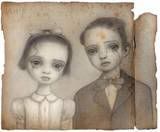 love – blind
we
purblind
ish'q na'beena
hum
andharay maiN
love – august
we
sublime
ish'q khud'dar
hum
bay zaar
love- juiceless
we
parched ish'q piyaasa
hum
tishna lubb
love – delusion
we
deceptive
ish'q faraib
hum
khud faraib
love – heritage
we
in denial
ish'q virsa
hum
la waaris
love – solitary
we
forlorn
ish'q tanha
hum, tum
tanha, tanha