Adrian Mitchell died on December 21, 2008 in London. A prolific poet, novelist and playwright, he was perhaps best known for saying "most people ignore most poetry because most poetry ignores most people." He was a strongly committed anti-war poet and wrote extensively against Vietnam and Iraq wars.
Norman Morrison
On November 2nd 1965
in the multi-colored multi-minded
United beautiful States of terrible America
Norman Morrison set himself on fire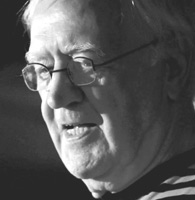 outside the Pentagon.
He was thirty-one, he was a Quaker,
and his wife (seen weeping in the newsreels)
and his three children
survive him as best they can.
He did it in Washington where everyone could see
because
people were being set on fire
in the dark corners of Vietnam where nobody could see
Their names, ages, beliefs and loves
are not recorded.
This is what Norman Morrison did.
He poured petrol over himself.
He burned. He suffered.
He died.
That is what he did
in the white heart of Washington
where everyone could see.
He simply burned away his clothes,
his passport, his pink-tinted skin,
put on a new skin of flame
and became
Vietnamese.
Playground
Playground
dark brown eyes
scanning dusty tarmac
a boy on a swing
head down
mouth humming
a boy swinging intensely
before dust he must go
to his grandmother's house
on the edge of the city
alone on a swing
thinking on a swing
a boy
his mother will stay home
she won't go to the shelter
people here are afraid of shelters
they remember last time
the chains of the swing
they clang they creak
the boy's head fills
with explosions
a boy on a swing
This poem was written during the invasion of Iraq in 2003.
Courtesy The NEWS, Pakistan