The violent process of Partition remains a highly contested domain in the study of history. Raza Rumi examines various histories of Partition in the light of arguments from three recent books on the blood-stained events of 1947
The debate on India's Partition of 1947 continues even 68 years after the cataclysmic event took place. […]
Most of us recognize Faiz Ahmed Faiz for his immortal poetry. Few are aware that Faiz Ahmed Faiz was also a prolific prose writer and that too in English. In 1947, he was asked by the great progressive of his times, Mian Iftikharuddin, to edit The Pakistan Times. In addition, Faiz was made the head of the editorial board of the Urdu daily Imroze and was also associated with the literary weekly Lail-o-Nahar.
Faiz Ahmed Faiz
This foray into journalism came after a five-year stint with the welfare department of the British Army that hired Faiz in 1942 for its publicity wing. This decision to join the army was made due to his clear stance against fascism.
After Independence, Faiz Ahmed Faiz wrote for The Pakistan Times for four years until 1951, when he was arrested for supporting the Rawalpindi Conspiracy. Faiz wrote extensively on a variety of issues in the voice of a conscientious commentator. The writer was less of a revolutionary and more of a journalist trying to pursue a balance.
In an editorial dated September 13, 1948, Faiz Ahmed Faiz paid rich tributes to Jinnah, the founder of the nation. He also added how India and Pakistan in quick succession lost two great leaders — Jinnah and Gandhi. Faiz had termed Gandhi's assassination in an earlier editorial as "one of the darkest crimes in history" and "comparable only to the crucifixion of Jesus."
Shobhaa De has noted the ramblings of yours truly on her blog:
I came across a Pakistani blog that took him to the cleaners – but in such a witty way. Since he'd been clubbed with Modi (why not?), the blogger from across the border, urged the world to watch out for the new […]
Amarjit Chandan has sent another article on the Varun Gandhi's saga. My views have been quoted again.
Naveen S Garewal
Tribune News Service, Chandigarh, March 24
Varun Gandhi is either the saviour of the Hindus or a venom-spewing hate monger, depending upon the blogs you read on the Internet. Active writers on the Internet, or the literati of the blogosphere as they like to be called, are pulling no punches in defending or attacking this outspoken member of the BJP.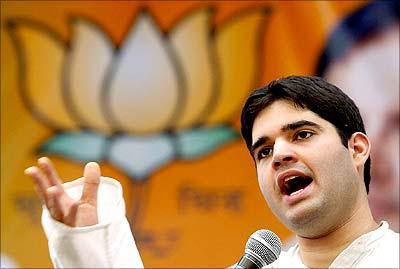 A post at Pak Tea House and the sharp comments attracted some ire among the readers as to what was Varun Gandhi issue doing on a Pakistani blog-zine? Indeed, the question merits some deliberation. We in Pakistan are constantly being demonised by the Indian mainstream media as a 'terrorist' country and that we are a great threat to the 'secular', shining India. Varun gandhi's remarks as the saner elements of Indian media and commentators are saying only show that people have gotten away with such crap. The fissures in the secular Indian democracy get even more evident when such speeches are delivered.
Varun Gandhi's remarks on Muslims, hate speech that goes beyond all measures of 'hate speech' concerns us as it only exposes us to brigades of hatred, communalism and violence across the border. […]
By Raza Rumi
Sixty one years have gone by but the creation of Pakistan is still a heated debate: contested, fractured and bitter. That history has been the preserve of the victors and the powerful is well known. But to spin and whirl the truth to the extent that it becomes empty and farcical is an art form practiced by the Pakistani state and its mock-historians.
In early January of this new year, a heated controversy entered the public domain. A famous Urdu columnist writing for the largest vernacular newspaper reiterated the widely-known fact that the pragmatic Mr Jinnah had accepted the Cabinet Mission Plan and given up the demand for Pakistan in 1946. However, it was the […]