What motivates me to write? Lacking an appropriate label, a catchy boxed tag such as a historian or a sociologist, what is my locus standi?
Writing about the textbook enemy, the 'other', is but a daunting task. Facing the grandiose Humayun's tomb on a chilly January morning this year, I decided to write a book on Delhi.
It was not before I had visited the ancient city that I knew what it symbolised. In Pakistan, we were influenced by the glories of Lahore, my beloved city. Reconstructed histories had kept Delhi invisible. The seat of the Sultans, Mughals and the Raj, precursor of the modern united In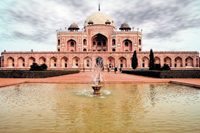 dia and originator of the Indo-Islamic civilization was a mere phantom, best ignored.
Over several visits to Delhi, I realised that invisibility was also a shared curse. A good number of Delhi wallahs I met, had no clue where they lived or crossed the streets. Erasure, blank spaces in textbooks had rendered their own city a mythical other-world existing only in erudite books, rare cultural soirees and among the fading memories of old-Delhi.
When I looked for the house where Urdu's legendary poet Mir Taqi Mir lived, no one knows it. Those living in Hauz Khas are unaware of what it was. There are thousands, perhaps more, who have never visited Nizamuddin Bastee let alone the dargah there. Tracing history through books resembles a two-dimensional vision. Lived histories add other dimensions to the inner kaleid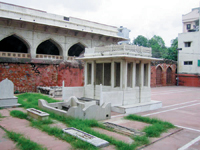 oscope. But there are so few who can help me.
I am pained when I am taken to the tomb of India's first female ruler Razia Sultana (1236 – 1240). Only centuries later another woman Indira Gandhi was to rule the Centre. Razia's grave languishes on an abandoned, filthy cul-de-sac. Many don't care. I wonder, should I?
As I have ventured out to write, the enormity of Delhi — the idea — haunts me. Where do I start? The layered construction of Indian, and Muslim identities in the subcontinent emanate from the ridges and Hades of Delhi. The saints buried under its red-brown earth impacted the society and culture for times to come. Now viewed as a global 'problem', the Muslims augmented the diversity of an already wondrous India. What is known as the [north] Indian cuisine, albeit of the non-vegetarian v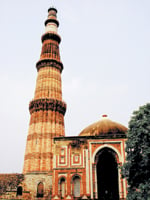 ariety, is a Muslim innovation and so are tunes of Hindustani, classical music, the strings of a sitar and the rhythms of tabla. Ten centuries of cultural hybridization resulted in Urdu and current day Hindustani the idiom for northern India and the much-celebrated Bollywood.
Delhi's history also underwrites the secular tradition. Save the unsavoury and brief spells of intolerance, governance was largely a secular feat. Whilst Europe was grappling with intra-Christianity fissures, Akbar was holding inter-faith dialogues and Dara Shikoh in his Delhi library was translating the Bible and the Upanishads in Persian.
What motivates me to write? Lacking an appropriate label, a catchy boxed tag such as a historian or a sociologist, what is my locus standi? Irritated, I ignore the little demons with a single sentence: Delhi belongs to me as well. As a 'Pakistani-South Asian' Muslim, I share Delhi's past and its present too. Visas and borders obfuscate my affinities; shared histories are challenged by communalists and extremists. And, I write a book to cross boundaries and tread zones that officialdom cannot appropriate.
Who said writing was not a liberating experience. What could be a better way to subvert the imposed hostilities and jingoisms — just write?
Undaunted, I am still spinning my Delhi yarn.
(Versions of this article were published in Outlook City Limits,India and the NEWS on Sunday, Pakistan.)