Body Loom by M. Athar Tahir
Published in the Daily Dawn (reviewer- Muneeza Shamsie)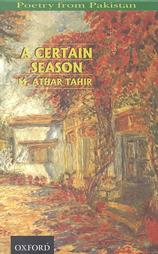 There have been so few notable English language poetry collections to have been published in Pakistan of late that it is really good to see Body Loom by the versatile Athar Tahir. He is one of Pakistans foremost language poets today. He is also a translator, calligrapher and editor of sumptuous books on Pakistani art and calligraphy. All these disciplines come together in this collection which begins with a brief poem Dot encapsulating both creation and the calligraphers art. While another poem Calligraphy is imbued with vivid colours that reflect Tahir sensitivities as an art critic and painter. Describing the movement of a script across a page, he writes:
here it lifts its long neck
to new tensions,
here arcs its back
and scoops the emptiness
in praying hands,
here it flows mud-read
down a river-bed stirring to life.
Calligraphy is replete with a rich imagery and yet it has a stillness, a sense of meditation, which provides a marked contrast with the vibrancy of Kathak his preceding poem. Here he captures the gathering tempo of dance and dancer with great skill. He begins:
To the sitar's slow unwinding
gestures unfold
and ankle-bells shiver into shape
the wait that must be endured,
expressed
while the tabla's impestousness
lets fly rose-petals from her wrists
like fluttering heart-beats.
Fingers blur in motion
And palms cascade or
smother notes
At the dark heart of the tabla
Tahir's poems are immensely visual and he uses small, telling details very effectively to illumine the whole. This is clearly evident in Anar-kali which gathers up the essence of a famous legend against the backdrop of a fabled court and underpins the formers immortality in the last line, with a reference to contemporary Lahore's Anarkali bazaar. In Walled City, Tahir follows the movement of sunlight across tall houses, courtyards, rugs and balconies to capture the beauty and grace of Lahore's traditional architecture. In Karachi however, he is bewildered by the landscapes of
this sea edge city
burgeoning beyond
comprehension
but finds reassurance when he travels beyond, to the deep blue of the open sea.
Many of Tahir's poems are a celebration of nature. In Changala Gali he meditates upon the lives of goatherds amid misty mountains and valleys; while the elegant Aitchison morning and Aitchison Evening capture the different moods and sounds of the day through descriptions of birds, insect life, the beat of horses hooves, the length of grasses and shadows. Tahir's observations of animal life include poems such as Oysters and Glow-worms which endow a quality of magic to tiny creatures. The two poems to Tahir's father Abu-ji I and Abu-ji  encapsulate so much left unsaid to a parent; his verses also convey the poet's sudden awareness of his own increasing age and the passage of time. Tahir also makes a comment on human tragedy and loss in Baluch Chief while Water-melon vendor tells of a life of anonymity and hardship.
Athar Tahir belongs to that group of contemporary Pakistani English poets who continue to honour the late Taufiq Rafat as an early mentor and guide. Tahir's poem In Memorium: Taufiq Rafat (1997-1998) is a befitting tribute which also evokes the cadences and images of Rafat's verse. Tahir is adept at using words which convey volumes without stating the obvious. His ironical poem Partition portrays the sub-continent as a mere piece of paper, a map, upon which a colonial Englishman draws an arbitrary boundary line without a thought to the consequences. The poem ends with the words:
he turned the light off, thinking of good old
England, little guessing what he had lit
Tahir also uses irony to make a powerful anti-war statement in his protest poem Iraq which begins with:
By what and how is success
measured?
By inches the bamboo grows
in a night
Through a victims flesh
The collection culminates with Punjab calendar, a sequence of 12 poems each named after a consecutive month from January to December. The poet takes the reader across the landscapes of the Punjab, capturing the mood and colours of different seasons: from misty January mornings to the oven-hot temperatures of April and an earth bleached and baked by the June sun, only to be overtaken by the monsoon in July and the windswept trees of November. The sequence is interspersed with images of turbaned men and village women, laburnam trees and keekar, paddy and mustard fields, crows, Siberian cranes, herons.
This is a very fine collection indeed and possibly Tahir's best to date. Hopefully more will follow soon.
Body Loom by Athar Tahir
Oxford University Press